SAIS WIPER FOR FLAT SURFACES
Programmable Underwater Wiper for biofouling prevention with full access from Ethernet connection anywhere in the world.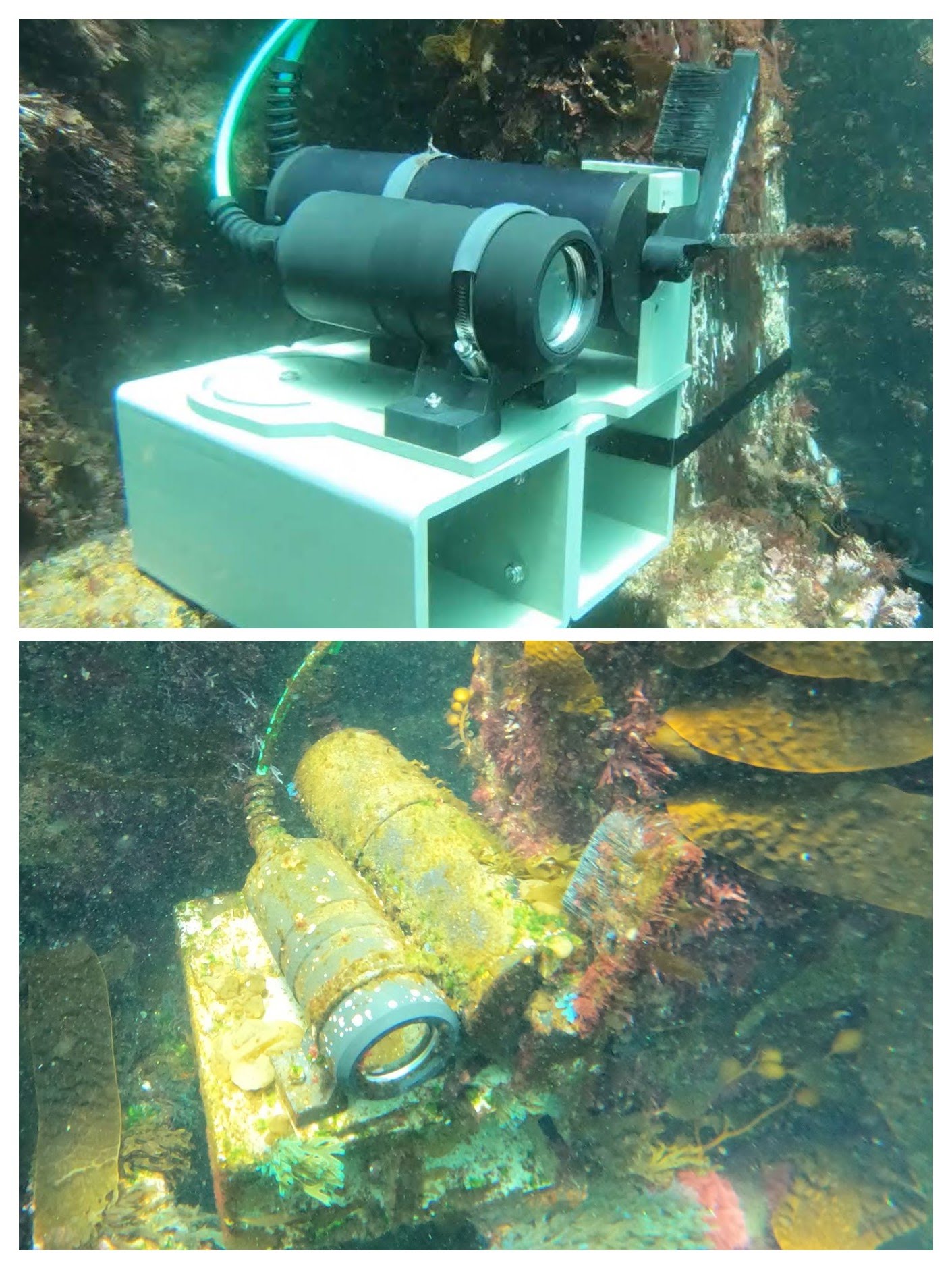 The photos above were taken 3 months apart. The camera and wiper were situated in 15 feet of water in the Pacific Ocean. After corrosion, biofouling is probably the greatest challenge to keep underwater cameras, lights and instruments in good working order. SubAqua Imaging Systems (SAIS) Wiper for Flat Surfaces is designed to wipe flat surfaces like the front window of a camera, light or other underwater instrument. The wiper can be pre programmed by the user to perform wipes at set time intervals. It is an Ethernet or IoT device with full connectivity to the web so that it can also be accessed from anywhere that has a web connection to it. From the web interface, the user can:

• Program the wiper to complete wipes on a time-interval of minutes or hours.
• Modify the angle through which the wiper sweeps.
• Instantly activate the wiper. If there is something on your camera lens, instead of waiting for the next cycle, you can have the wiper complete a cycle immediately from the web interface.
• Set IP address and login password.

The wiper itself is comprised of synthetic bristles which are less attractive to marine flora and fauna. The arm is secured to the wiper shaft with a single stainless steel bolt so that it can easily be swapped out underwater when necessary. The external surfaces of the wiper unit are all plastic with no exposed metal so there are no surfaces to corrode. To provide the most economical solution possible we have employed commonly available PVC pipe to make the external body. SAIS has wiper brackets that will mate the wiper assembly to any one of our flat port cameras or lights. Custom brackets are also available at affordable cost for your specific needs. See the spec sheet for full details.
The National Park Service uses a SAIS Wiper for their Anacapa Island Kelp CAM, hosted by Explore.org. Follow the link below to watch the kelp sway gently back and forth in the ocean surge for a minute or two and feel the stresses of the day melt away.
Click here for a live view
(NOTE - the camera is on 24 hours a day but the image is only visible during daylight hours, United States West Coast Time = GMT minus 8 hours)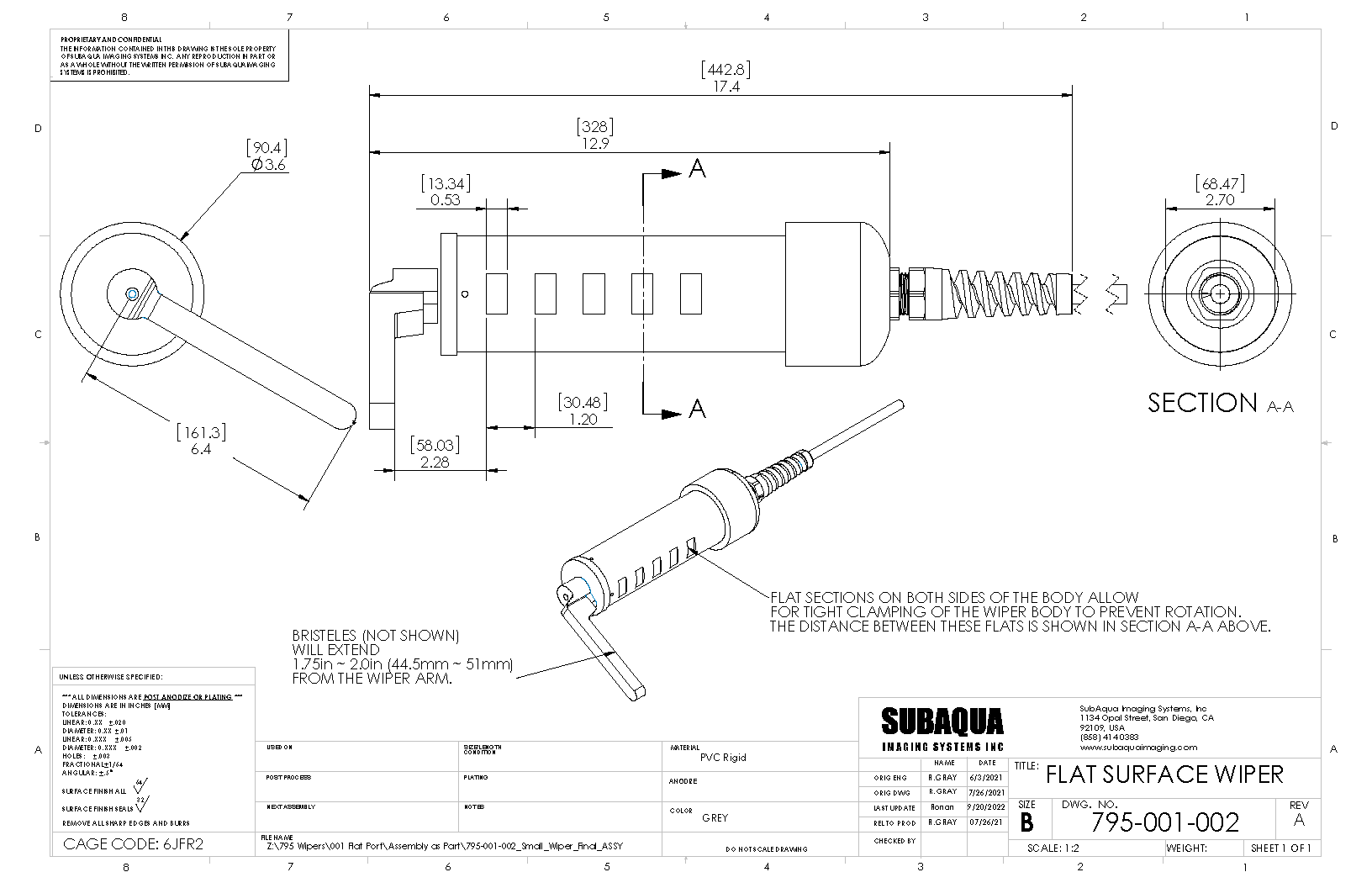 See the Spec Sheet and Technical Drawing above for options and contact us for pricing.
For more Information:
Tel:+858 414 0383 - San Diego, USA
info@subaquaimaging.com
Contact Us Here >>>
Contact Us
Tel:
+858 414 0383 (San Diego, USA)

Email::
info@subaquaimaging.com

Wiper Installations include:


https://explore.org/livecams
Explore.org is the world's leading philanthropic live nature cam network and documentary film channel.

USC Wrigley Marine Science Center
The USC Wrigley Marine Science Center uses a SAIS Flood Light for their livestreaming camera installation from Catalina Island hosted by Explore.org.